07 Jul 2021
The FAIR Cookbook – a guide for your data FAIRification journey
An online resource for the Life Sciences with recipes for making and keeping data Findable, Accessible, Interoperable and Reusable (FAIR).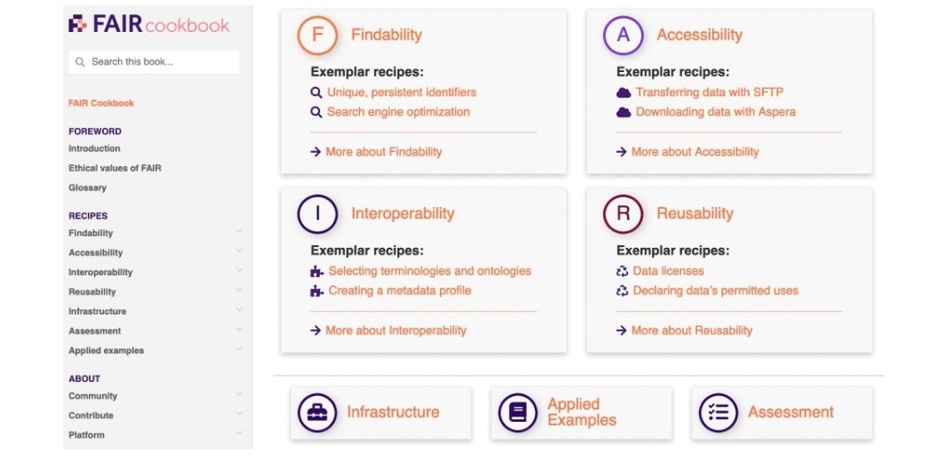 Developed by a thriving community of Life Science professionals in the academia and industrial sectors, the FAIR Cookbook is an online resource for the Life Sciences with recipes to help you make and keep data Findable, Accessible, Interoperable and Reusable (FAIR).
The FAIR Cookbook provides recipes for researchers and data stewards to learn; how to FAIRify datasets, the levels and indicators of FAIRness, the maturity model, the technologies, the tools and the standards available, as well as the skills required, and the challenges, to achieve and improve FAIRness.
Funded by the IMI FAIRplus project, a private-public partnership, the FAIR Cookbook is a 'live' resource that is being populated and improved, iteratively, in an open manner, and with recipe that are citable and credited to the authors. The platform is built using Jupyter Book, following the practice used by the Alan Turing Institute' the Turing Way book, an open source community-driven guide to reproducible, ethical, inclusive and collaborative data science.
The FAIR Cookbook is also part of the larger family of the ELIXIR FAIR-enabling services. A recent webinar organized by ELIXIR, 'Discovering the FAIR Cookbook', attracted over 400 registrants, showing the importance being placed on building good data management capacity within both public and private sectors. 
"The FAIR Principles are now synonymous with good research data management, which is a perquisite for reusable, reproducible and high-quality data. However, the FAIR Principles are aspirational and there is a growing body of very generic guidance that is not specific to the life sciences. The FAIR Cookbook aims to fill this gap, by leveraging on discipline-specific data manager professionals in the public and private sector who have a wealth of knowledge in the area"
says Dr. Philippe Rocca-Serra, Associate Member of Faculty and Group Coordinator, one of author of the FAIR Principles and lead editor of the FAIR Cookbook.
If you want to participate, you can contribute to the resource, or contact the Editorial Board at fairplus-cookbook@elixir-europe.org