10 Nov 2023
Oxford e-Research Centre researchers attend Oxford Digital Festival 2023
FAIRsharing team show you how to find the standards, databases, and policies you need to be FAIR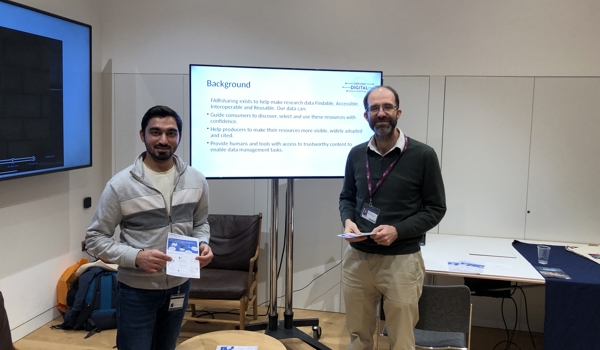 Oxford Digital Festival is a day of discovery about Oxford's digital future; with exhibitions, demonstrations, plenary sessions and more. 
Taking place on November 9 2023, The conference-style event was created for University of Oxford staff to find out about established digital solutions already part of Oxford, exciting research initiatives and to discover how the institution will be evolving as part of Oxford's Digital Transformation.
The event took place at the Jesus College Digital Hub in Oxford City Centre.
Milo Thurston, Ramon Granell and Prakhyat Gailani attended the event to talk about FAIRsharing, giving attendees the chance to learn more about finding the standards, databases, and policies you need to be FAIR.
Find out more
FAIRsharing; A curated, informative and educational resource on data and metadata standards, inter-related to databases and data policies