01 Feb 2022
New international project will map connections between art and museum exhibitions
Enriching Exhibition Scholarship: Reconciling Knowledge Graphs and Social Media from Newspaper Articles to Twitter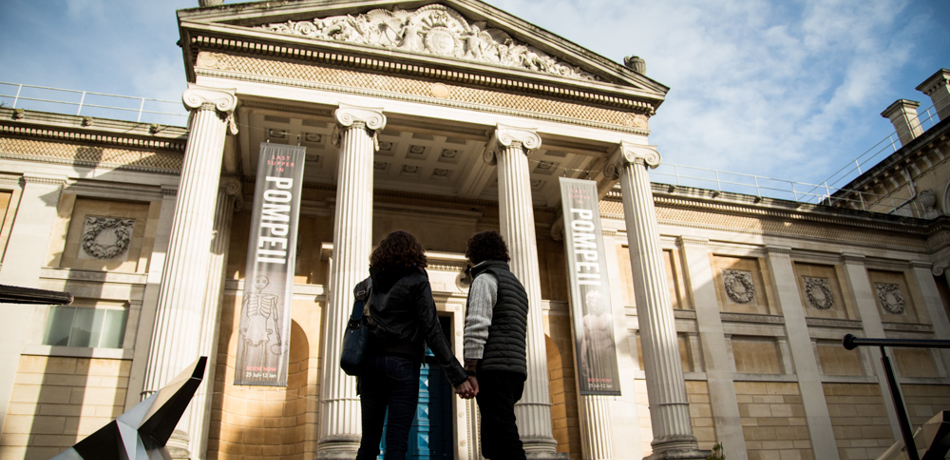 Oxford e-Research Centre's Dr Kevin Page is co-investigator for a new project which will map connections between art and museum objects across the world, creating information that will make arts knowledge more accessible and shareable for artists, scholars and the public.
The collaborative project from the Universities of Edinburgh, Oxford, Yale and the Ashmolean Museum, aims to use exhibitions and the sharing of objects as the key to enriching existing art metadata developed by the Linked Art collaboration.
This will connect artwork information, and encourage visitors to engage with exhibitions, by providing them with shareable content for social media.
Gathering data from newspaper articles, exhibition catalogues, social posts and more
The digital project will gather information about exhibitions from the range of approaches used to engage audiences about art exhibits, including exhibit labels; catalogue essays; critics' reviews; media coverage; and social media posts by visitors.
Making exhibitions easier to study
 The research will make art exhibitions and objects easier to study, solving a previous lack of comprehensive and structured data about co-exhibited objects, and how visitors to exhibitions participated and engaged with the work.
The database will include where items have been displayed before; which items were exhibited together; items that have been loaned and shared between collections and galleries; and details of how the audience responded to them.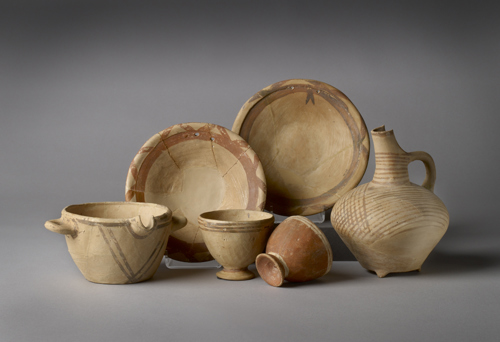 Spouted bowls, Early Minoan II Period © Ashmolean Museum, University of Oxford
Using digital tools
This is a digital project, which will use advanced computational techniques, such as text mining and machine learning, to capture all sorts of exhibition data and allow museums to make it easily accessible and shareable to scholars and the public.  
The project - Enriching Exhibition Scholarship: Reconciling Knowledge Graphs and Social Media from Newspaper Articles to Twitter - will be led by Dr Clare Llewellyn, Lecturer in Governance, Data and Technology at the University of Edinburgh's School of Social and Political Science and the Edinburgh Futures Institute.
Dr Llewellyn:
"We warmly welcome funding from the AHRC and NEH for this international collaboration. It provides us with the exciting opportunity to consider, and record for future study, the context and reception of artworks. This partnership brings together historical objects, rich information resources and advanced computational techniques and will allow us to increase the accessibility of this knowledge. It provides a significant step forwards in art and digital humanities research."
Director of The Ashmolean Museum in Oxford, Dr Xa Sturgis:
"The Ashmolean are delighted to be collaborating in this important digital research project which will further Oxford's aim to widen access to its cultural heritage data and present new opportunities for academic and public engagement with the Museum's collections.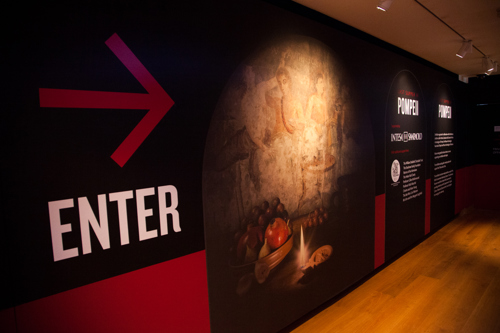 Pompeii Exhibition © Emily Jarrett / Ashmolean Museum, University of Oxford
A team of experts in linked open data, exhibitions, art history, and artificial intelligence
The project brings together an international team of researchers in the fields of linked open data, exhibitions, art history, and AI, from the University of Oxford, the Ashmolean Museum and Yale University.
Dr Aruna Bhaugeerutty, Head of Digital Collections at the Ashmolean and a project co-investigator:
"This project provides an exciting opportunity to explore new approaches to enhance the museum's collections data using digital technologies and techniques to connect with other institutions and related exhibition information."
Co-investigator Dr Andrew Shapland, the Sir Arthur Evans Curator of Bronze Age and Classical Greece at the Ashmolean
 "As a curator I'm interested in all of the different contexts which museum objects have journeyed through. This project promises to develop new ways to explore the digital world in which collection objects are now embedded."
Dr Kevin Page of Oxford e-Research Centre, project co-investigator: 
"This project is an exciting opportunity to build upon our earlier Linked Art research, applying Linked Data foundations to develop new avenues of digital scholarship through which we can explore the historical and social contexts of exhibition reception and interpretation."
Dr Peter Leonard, Project Director at Yale University:
"We are gratified for this support, which builds on a long tradition of partnership across the Atlantic. Alongside traditional areas of common interest, we see computational methods as a promising area for international collaborative scholarship. In this project, digital discourse on social media is considered alongside traditional print catalogues – pointing to new and more inclusive considerations of the reception, circulation and contextualization of artworks."
Funding
The project has been granted funding from the UK Arts and Humanities Research Council (AHRC) and the US National Endowment for the Humanities (NEH).
Find out more
Dr Clare Llewellyn, Lecturer in Governance, Data and Technology at the University of Edinburgh's School of Social and Political Science
Politics and international Relations at the School of Social and Political Science, University of Edinburgh