08 Dec 2021
Hands-on "Stop the flood" activity at Super Science Saturday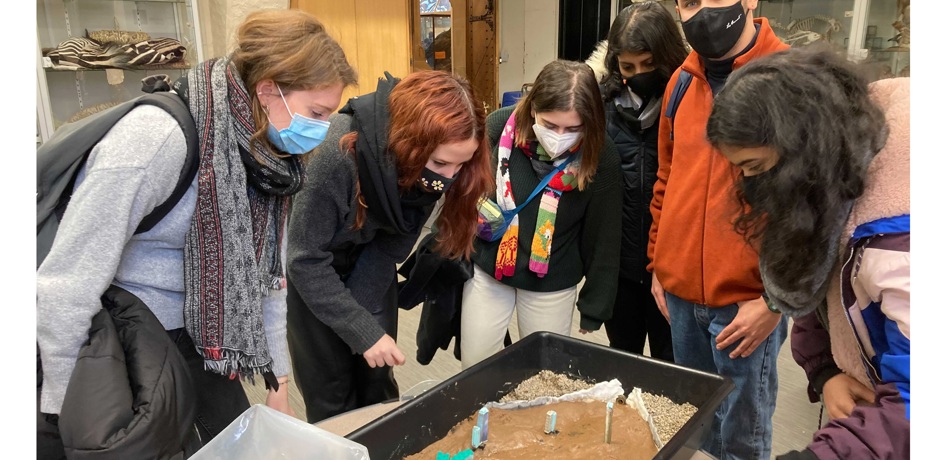 The Department of Engineering Science took part in Super Science Saturday: People & Planet on Saturday 27 November at the Oxford Museum of Natural History.
Super Science Saturday is a family science fair where visitors can meet researchers and community organisations to learn more about what scientists are discovering about the environment. The event gave visitors a chance to learn about what research scientists get up to and how our lifestyle and choices can affect the planet and the things that live on it, as well as learn about environmental projects that are working on creating a healthier planet.

Dr Sarah Sparrow hosted the "Stop the flood" activity at Super Science Saturday
Dr Sarah Sparrow represented the Department of Engineering Science at the event, hosting a special "Stop the flood" hands-on activity. The activity gave adults and children the chance to build a model town or village, and then see what impact a flood would have, before putting in flood prevention measures to discover what can be done to prevent flooding. Dr Sparrow said;
"It was great that both children and adults alike were interested in the activity, discovering for themselves in a hands-on manner how planting trees and hedges around river banks or reshaping the river themselves can actively help to reduce flooding."
The Super Science Saturday: People & Planet event was part of the Operation Earth 2.5 project showcasing climate science, and the 2021 United Nations Climate Change Conference (COP26).