13 Oct 2021
BY-COVID project launched to address pandemic preparedness
This EU supported project aims to ensure that data on SARS-CoV-2 and other infectious diseases can be found and used by everyone, and our Centre-led FAIRsharing and the FAIR Cookbook will contribute to the goals.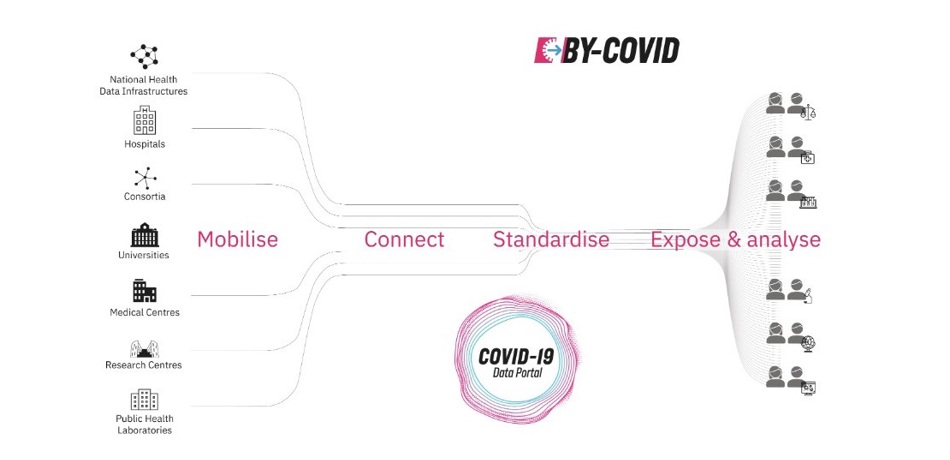 Today marks the launch of a new €12 million Horizon Europe funded project, BeYond-COVID (BY-COVID), which will tackle the data challenges that can hinder effective pandemic response. The core aim of the project is to ensure that data on SARS-CoV-2 and other infectious diseases can be found and used by everyone through four key 'pillars':
Mobilise data - ensuring raw sequencing data from across the world can be easily submitted to core data hubs (e.g. SARS-CoV-2 Data Hubs, European Nucleotide Archive (ENA), Federated European Genome Archive (FEGA), CESSDA social science archives, and BBMRI biobank directory).
Connect data - build the technical capacity to allow linking of sequence data and metadata - expanding beyond scientific and medical data to broader metadata from for example public health and economics. Support integration to the COVID-19 Data Portal. 
Standardise data - provide recommended data management protocols to encourage Findable, Accessible, Interoperable and Reusable (FAIR) data standards and interoperability among resources. 
Expose and analyse data - support exposure and analysis of FAIR data on infectious diseases such as the regular VEO reports on mutations and variation in publicly shared SARS-CoV-2 data and the open COVID-19 Galaxy analysis platform
Niklas Blomberg, BY-COVID Coordinator and Director of ELIXIR, spoke of the need to work across scientific communities in pandemic preparedness:
"It is fundamental that we learn and build on the experiences of the COVID-19 pandemic, to ensure that, from a data perspective, there are no hindrances to rapid access to infectious disease data." 
Dr. Philippe Rocca-Serra (Oxford PI), Prof. Susanna-Assunta Sansone (Oxford Co-Investigator), and Dr. Allyson Lister, along with members of the Data Readiness Group, will contribute to BY-COVID via the FAIR Cookbook, working to collect the data management protocols to make data FAIR, and FAIRsharing.
In BY-COVID, FAIRsharing will be the catalogue of data sources that will:
assist with the selection, documentation and visualisation of standards, and
contribute the data discovery, profiling the databases' access methodologies
connect to EOSC metadata aggregators, via the FAIRsharing-openAIRE collaboration
Dr. Allyson Lister, FAIRsharing Content and Community Coordinator explained:
"FAIRsharing has already worked with many international communities to collect and describe databases on SARS-CoV-2 and other infectious diseases. BY-COVID, however, will allow us to move to the next level and evolve FAIRsharing as a data discovery service." 
BY-COVID is an exciting interdisciplinary project that unites life science, medical, policy, social science and public health experts from across Europe. Led by ELIXIR, the project has 53 partners from 20 European countries. The BY-COVID project will run for three years and is part of the European Commission's HERA Incubator plan 'Anticipating together the threat of COVID-19 variants'.
Find out more
Visit the BY-COVID website for more information
Follow the BY-COVID project on Twitter and LinkedIn.
The FAIR Cookbook