09 Jun 2022
Allyson Lister named as RDA / EOSC Future Domain Ambassador
Ambassadors will create outreach conduits between the Research Data Alliance, European Open Science Cloud, and underrepresented scientific communities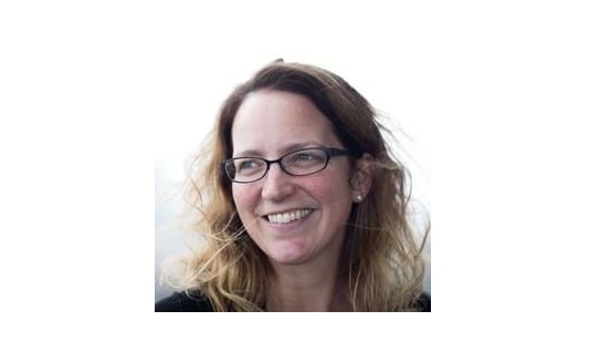 The following article has been written by Dr. Allyson Lister, FAIRsharing Content and Community. It is reproduced by kind permission from the original article on the FAIRsharing blog.
Together with four other researchers, I am happy to announce that I have been named as an RDA / EOSC Future Domain Ambassador. The goal of the Domain Ambassador programme is to create conduits of communication and outreach among the  RDA, EOSC Future,, and the communities of which each domain ambassador is a part. The hope is that this programme will allow "discipline experts grow their network and collaborate with like-minded people and organisations via the RDA". Each ambassador has their own domain of interest.
As the RDA / EOSC Future Domain Ambassador for standards, repositories and policies I will use a combination of community development, resource curation, educational material and outreach to build a network of community curators who will "champion" their domain of interest.
While you can find a more informal take on what the programme means to me – and what my activities will be – via my personal blog, in this post I'd like to focus on what the ambassadorship will mean to FAIRsharing. Although funded by this programme through September 2023, FAIRsharing is committed to the continued support and promotion of the work kickstarted by this ambassadorship. This means that the Community Curation Programme described earlier this week as well as its network of community curators will be sustained for the long term.
Overall goals of the Ambassadorship
There are a number of activities that will be performed over the course of the ambassadorship, which will:
promote the value

 

and use of standards, repositories and policies within and across communities and disciplines;
enrich education

 

around these resources, creating valuable informational and training material
improve the discoverability

 

and visualisation of new standards as well as crosswalks of existing standards developed by RDA groups;
help the EOSC Future's

 

ESFRI clusters

 

to make their resources

 

more visible

 

within FAIRsharing and

 

more accessible

 

to EOSC information aggregators; and
ensure FAIRsharing, a RDA-contributed element of the EOSC ecosystem, continues to

 

meet the needs of its diverse EOSC stakeholders and research communities, now and into the future.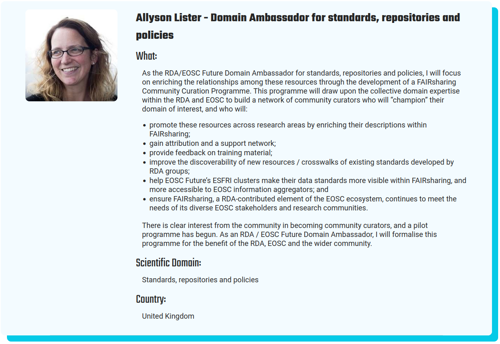 Development of the Community Curator Programme
The Spotlight post earlier this week described Lindsey Anderson's experiences as one of our early-adopter community curators, and served to officially open the call for applicants for the FAIRsharing Community Curation Programme. This programme will create a core group of discipline and cross-domain experts, embedded in or connected to RDA groups and EOSC Future (in the ESFRI cluster projects). Working together, this core expert group will:
bring expertise

 

for the benefit of the RDA, EOSC and broader community through the curation of collections of standards, repositories and policies in FAIRsharing relevant to them;
receive training

 

in how to make the best use of FAIRsharing existing features, such as relationship graphs and the subject browser, and use existing content;
influence

 

new FAIRsharing functionalities to improve the discoverability and selection of resources, as well as the visualisation of their relationships;
get visibly credited

 

as discipline-specific community-curators, also via the use of their ORCID in FAIRsharing, and sections (such as "works" or "services") in their ORCID profile, through

 

FAIRsharing's status as an ORCID trusted organisation; and
grow their network

 

through collaboration with like-minded people and organisations, thus aiding their integration into the wider EOSC ecosystem.
This core group will work with domain communities and cross-domain stakeholder groups such as data stewards, trainers, librarians, policymakers, publishers, resource and infrastructure developers and curators.
Educational Material
Working with our community curators, we will create new or enrich existing educational / training material to serve the communities and disciplines they represent, such as:
infographics to provide visual storytelling for community-specific routes to discover and visualise standards, repositories and policies in FAIRsharing; and
training videos and other material to showcase how to discover and use these community resources, showing the relationship between standards (e.g. which terminology is used by a specific model), and their implementation by repositories (e.g. which ones use schema.org). 
All material will be served as part of the nascent FAIRsharing Educational component, and in a FAIR manner, with a PID and via one or more appropriate repositories.
Outreach
Internal communication channels and documentation processes will be set up for the network of community curators, to ensure they are informed and engaged as possible. This includes outreach such as presenting to RDA and EOSC related events, as well as community-related workshops and leveraging my existing contacts across multiple research domains and projects. Outreach will happen not only via existing FAIRsharing, RDA and EOSC outlets, but also social media channels, news items, and blog posts of the participating communities. 
Get involved
We're looking to engage with communities across all of the Natural Sciences, Engineering Sciences and Humanities & Social Sciences. If you are interested in the Community Curation Programme and are thinking about joining, get in touch via email or Twitter. Thank you!
Find out More
The FAIRsharing Blog
Reproduced from the original article on the FAIRsharing blog by kind permission of Dr Allyson Lister