15 Dec 2022
AI & Music: Highlights from an Exciting Series of Projects in Michaelmas Term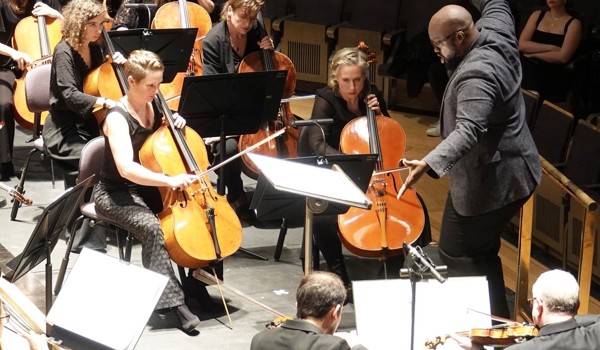 Oxford e-Research Centre has been involved in three exciting Artificial intelligence (AI) and Music projects in recent weeks. David De Roure, Professor of e-Research and a Turing Fellow, has summarised the highlights for us.
Silicon
We were pleased to collaborate in 2019 with composers Emily Howard and Robert Laidlow from PRiSM (Practice & Research in Science & Music) at the Royal Northern College of Music, on an event themed on Ada Lovelace at the Barbican. For this, Robert composed Alter, a contemporary classical work composed with and about AI. His latest AI-cocreated work is Silicon, which was performed by the BBC Philharmonic Orchestra at Bridgewater Hall in Manchester on 29 October 2022 – the first time the BBC Philharmonic orchestra has performed with AI.  This extraordinary performance was covered by New Scientist (including some video).  Robert has recently been awarded his PhD on Artificial Intelligence within the Creative Process of Contemporary Classical Music, and joins us in Oxford as a Career Development Fellow in Music at Jesus College. We're very excited to be working on further collaborations.
Forager
When we talk about AI and music, I always mention the pioneering work of composer George E Lewis. His Voyager software featured (or rather, collaborated) in his performances in the 1980s and hugely predates today's work, serving as an important reminder that AI and Music is not a new topic. This year it has been a privilege to work with George Lewis and the PRiSM team to jointly develop a new capability for Voyager – enabling it to hear sonic gestures played by improvising musicians. The Voyager system, enhanced with its "new ear", was used in the premiere of George Lewis' new work Forager at RNCM on 25 November. It was in fact an acoustic concert, with Voyager electronically playing a disklavier acoustic piano alongside the human musicians.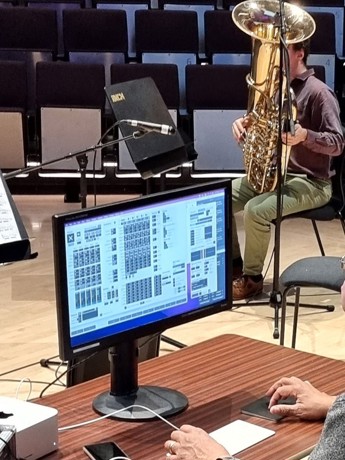 Performance of Forager, November 2022 (Photo by David De Roure)
Epoch
Our collaboration with the Urban Music Foundation came about through the pilot year of the Science Together programme, bringing together local community groups with researchers from University of Oxford and Oxford Brookes University. Collaborating with MC and poet Rawz, together with the Inner Peace Records collective, we are exploring the interplay between science, technology and hip hop. In January 2023 we will be creating  a sound art installation in the Old Fire Station, in which the audience will move through "Epochs" reflecting the 1950s through to "The Future". Bespoke sound tracks have been created by artists from Inner Peace Records for each one of the Epochs, using technology from the specific eras to create hip hop music, communicating their interpretations of these historic periods through their artistic response. It was very exciting to work on The Future track in the e-Research Centre in December, anticipating future tools for music creation and responding to lyrics generated with AI. Please come and see us in January!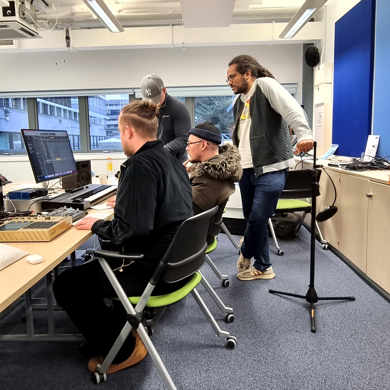 Collaborating on Epoch, December 2022 (Photo by David de Roure)
Find out More