07 Jan 2021
Workshop on extreme event attribution and impacts assesses influence of climate change on Minas Gerais extreme rainfall event
Workshop run by University of Oxford, Met Office and Cemaden as part of CSSP Brazil project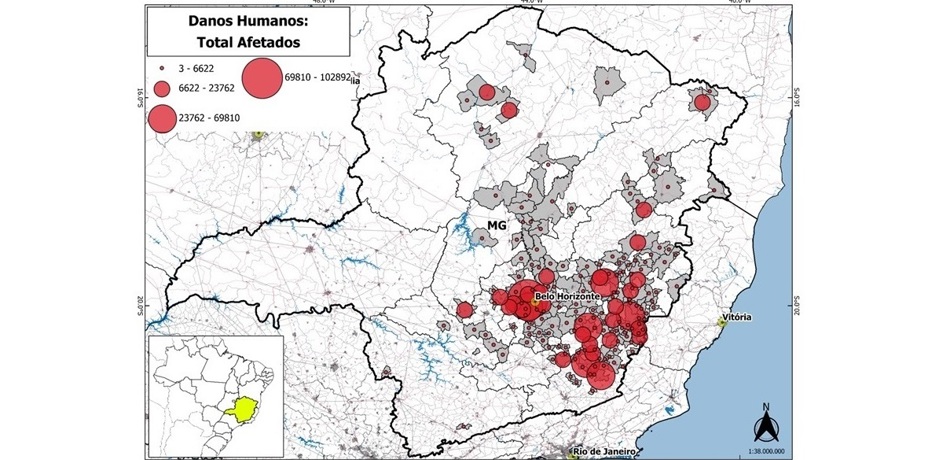 The Climate Science for Service Partnership (CSSP Brazil) AFLAME project, supported by the UK Government's Newton Fund and led by Dr Sarah Sparrow focuses on understanding changes in the risk, causes and impacts of Amazon wildfires. There is an emerging realisation that Amazonian wildfires formerly driven by deforestation and agricultural expansion are now growing to unprecedented magnitudes because of meteorological extremes.
As part of this project, The University of Oxford, alongside Liana Anderson from Cemaden, organised a workshop for early-career scientists in Brazil, held virtually from 30th November to 11th December 2020. During the workshop, two groups focused in parallel on the Minas Gerais extreme rainfall event that occurred at the end of January 2020, affecting more than 100 municipalities in Brazil, causing multiple deaths and severe socio-economic impacts. 
One group focused on assessing the influence of climate change on the rainfall whilst the other group concentrated on quantifying the impacts. The team aimed to answer the following questions:  What were the impacts of this extreme event on different sectors of society? Has climate change affected the likelihood of events like this occurring?
The workshop attracted participants from the National Institute for Space Research (INPE), National Centre for Monitoring and Early Warnings of Natural Disasters (Cemaden), the University of Sao Paulo (USP) and the University of Exeter. Despite the challenges of running a long virtual workshop, Liana Anderson says;
"The group dynamic worked very well and the team managed to reconcile the results into a strong message: although the study found that this particular event was made more likely due to climate change, there is still much that can be done to alleviate the impacts of disasters such as this, since the main drivers were the lack of urban planning and structural measures, urgently needed for decreasing social and environmental vulnerability". 
Dr Sparrow adds;
"I was really impressed with the enthusiasm of the participants and the input of the tutors and external speakers was invaluable in making the event a success."
Communications Manager Julie Meikle (University of Oxford) ran a dedicated communication session where participants practiced ways to disseminate the key findings to a wider audience, creating both a video storyboard for social media and a public information leaflet. She says, "Findings from studies like this can inform policy and planning, as well as help to influence public interest in and understanding of climate change issues by contributing the latest evidence-based research to a key area of public debate, so it is vital to communicate them beyond an academic audience".
Feedback from workshop participants was encouraging. Ricardo Dalagnol, postdoc researcher at Earth Observation and Geoinformatics Division (DIOTG) of the National Institute for Space Research INPE, São José dos Campos, Brazil said that "This workshop will be an example for me as an early-career scientist on organising or collaborating on mentoring future workshops of my own", and Carolina B. Gramcianinov, postdoc researcher at Institute of Astronomy, Geophysics, and Atmospheric Sciences of the University of São Paulo (IAG/USP) added, "It was a really nice workshop. Maybe one of the best that I have attended. I liked the idea of a 'free investigation', and that you gave more suggestions than a ready recipe or rules during the workshop. I believe that we've learnt more in this way."
The workshop group will keep meeting and formalising their results into a scientific publication. The group also expects to translate the results of their study into more accessible language to disseminate the results and alert key policy makers about the increasing risks of population exposure, vulnerability, and climate change impacts to the society.
Find out more
Climate Science for Service Partnership (CSSP Brazil) website