11 Feb 2022
All-new FAIRsharing site out of beta and into production at fairsharing.org
The launch is a significant landmark for FAIRsharing: the curated, informative and educational resource on data and metadata standards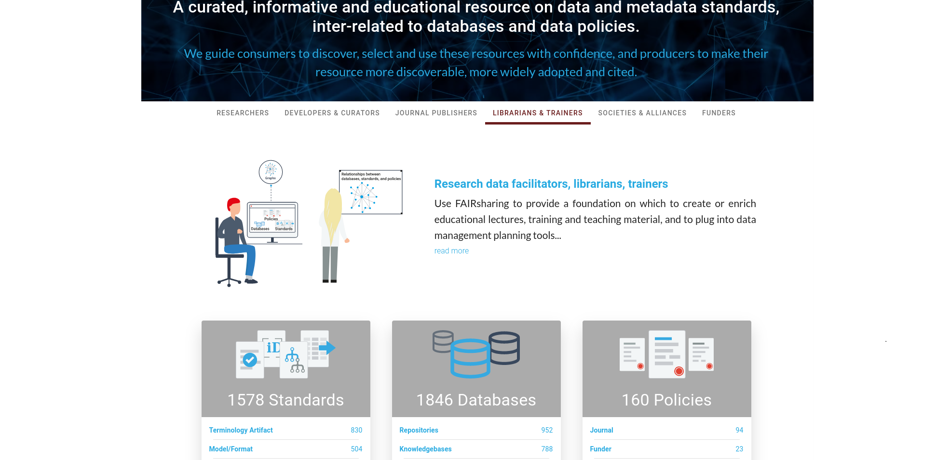 An exciting milestone has been reached with the all-new FAIRsharing site moving out of beta and into production at https://fairsharing.org/.
FAIRsharing is the curated, informative and educational resource on data and metadata standards, inter-related to databases and data policies. It guides consumers to discover, select and use these research resources with confidence, and producers to make their resources more discoverable, widely adopted and cited.
The new release gives FAIRsharing a brand-new interface, as well as a completely re-written back end and data model, to allow for greater flexibility in the coming years. It is planned that many additional features will be added in future.
FAIRsharing aims to provide a valuable service to resource users, while recognising the role of organisations that maintain databases and share their code and data. It allows a network of users offering their expertise in data curation to gain attribution for their important work.    

FAIRsharing helps with the discovery of research data resources, and engagement with (and promotion of) the research communities associated with those resources. FAIRsharing was created to help;
data stewards create data management plans
researchers find the right place for their experimental data
resource developers promote their databases, standards and policies to encourage their use
publishers, societies, funders and policymakers to make their recommendations more accessible
The research community understands how the landscape of research data resources is interconnected and interdependent.
Dr. Allyson Lister, FAIRsharing Coordinator (Content & Community) explains the value FAIRsharing offers the research community:
At its core, FAIRsharing is about relationships. Firstly, the relationships between our registry records: organisations maintain or fund databases, which share data or code with other databases, which in turn implement standards and are recommended by policies. Secondly, the relationships between FAIRsharing and our user community: our users help us curate resource metadata, and in return gain attribution for their work, exposure of their services, and expertise in data curation.
FAIRsharing is unique in its ability to identify and expose the network of these myriad connections, resulting in a registry that provides a valuable service not just to the people who wish to make use of these resources, but also those that create them.
Find out more
The all-new FAIRsharing site at https://fairsharing.org/
The FAIRsharing community and team